A pound-it-out running game and tough defense. It's probably cliché to proclaim that the win over Baylor looked like "old-school" Nebraska. But, then again, there's something to clichés: occasionally they're dead-on.
Peterson's touchdown was a fantastic catch. Nunn made some exceptional catches, including a one-handed grab that was one of the best I've seen from a Husker receiver in some time. (Aside: I hope Nunn isn't done returning punts.) All the running backs looked pretty good. Lucky keeps getting closer and closer to breaking one. Taylor is becoming particularly adept and tucking it in and running at opportune times. Bottom line, we beat Baylor because our guys made plays.
On defense, I should comment on the game Grixby played, since I've been worried about him in the past. He had a gorgeous interception to kill Baylor's opening drive…which was promptly taken away by the officials. His punt returns were good. He had the kind of pass breakups in this game that no Husker corner has had all year (great, tight coverage). His fumble recovery late in the game did come off a play where the receiver had beaten him. But overall, at least for one game, he looked like the real deal.
Bowman's interception not only came from good coverage, but it was a great catch. Turner played particularly well. Smith also looked good. Ickes was solid in Bradley's place. I hope he continues to play with a motor on him, a la the guy who saved the day against Pitt.
Not that Baylor should be a benchmark game or anything, but I feel better at this point this year than I did after the same game last year, even though we won by fewer points this past weekend. Baylor is a considerably better squad this season. And we went in there and ground out a win on the road, against about as large and "hostile" a crowd as Baylor can offer up. The touchdown drive to start the second half was top-notch and showed character.
THIS WEEK
As juiced as Baylor's crowd was, Missouri's will be another level up. The crowd in Columbia will be insane, especially if the game is close. A colleague of mine, Greg, who hails from Missouri, has assured me of as much. He's been trash-talking for days: "Brad Smith this, Brad Smith that…" blah, blah, blah. I find myself really hoping I can gloat later. (Here I am...putting myself above the program. Pitiful, I know.)
Both the Huskers and the Tigers had to go to OT to beat Iowa St. on their home fields. I think our team is slightly better, but the wildcard is Smith. Will he even play? If he does, will he play like the turnover-prone QB he has been in tough games this year? Or, will we get the Smith of 2003? The Blackshirts have faced Smith three times, holding him in check in two of the three outings.
We need to make it three of four if this season is to be something special, rather than just a little bit better than last year.

---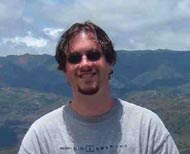 The voice of Scarlet Commentary is Jeffrey A. Leever, a Nebraska native also stuck behind enemy lines in Jefferson County, Colo. He is a 1994 graduate of the University of Nebraska (Kearney) and a freelance writer and author. Some of Jeff's writings of the nonfootball kind can be found online at Barnes & Noble (1, 2), Amazon.com (1, 2), and MenofIntegrity.net (1, 2, 3, 4, 5). Contact Jeff at splasheditorial@hotmail.com.