Ouch. There is no way Nebraska should have lost to Iowa St. This is the second game this year we've given away that we shouldn't have.
At this point in the season, I am tired of hearing excuses for Dailey. He's had a full spring and 9 games to figure it out, yet manages a pitiful 42% completion rate against an average conference opponent, plus a killer interception at the end. Yeah, "He wasn't recruited for this offense," but as Dailey himself likes to point out, he was brought in because Barney Cotton wanted to throw more. Cotton's O did throw more on Saturday, but it was the QB from his opponent completing a pass to Cotton's current team that sealed the deal. Twice this year Dailey has given away games by choking in the clutch (and he would've had another if not for the gift pass interference call against Pittsburgh).
Dailey's lousy play is affecting the entire team. They have very little fire left, no expectation good things are going to happen, and no will apart from what home crowds can give them. Nebraska will merely be good enough to lose most close games with Dailey as the QB. The only answer is a different quarterback.
Now, it should be noted that Davis's performance in the Texas Tech game leaves one wondering if a replacement QB is actually on the roster. Maybe not. But it's hard to imagine Goodman or Glissman not being able to muster 42% against Iowa St.
The special teams and defense in this game were bad, too. The D has given up nearly 50 points a game and nearly 500 yards of offense on the road in the Big 12. Before I had the chance to get a Coke out of my refrigerator, we were down 10 points. This effort—coming on the heels of the big win against Missouri—and when the team was in a great position in the conference race—was dreadful. Just dreadful.
Iowa St.'s quarterback has played one game against Nebraska's defense this year. Wouldn't you know it—he had a career-best passing day (345 yards)? Funny how that works. Iowa St.'s offense has been in the Big 12 cellar up to this point. Barney Cotton coaches one game as offensive coordinator against Cosgrove's D and looks like a wizard.
Cotton's offensive strategy was to go right at McPherson early. They lit him up, while protecting their QB well. Our defense was made to look porous again. The D had moments, but "moments" don't cut it when you're giving up 34 points and the signal caller of your offense is Joe Dailey.
There are many reasons why this game provides a snapshot of what has gone wrong this season:
Timeouts- We continue to burn these like they are candle wax in a cabin. And then, when we really need to use one, we either don't have it or are hesitant to use it. Which leads me to…
Defensive Alignment- Why can't our guys get lined up right? We lost by 7 points in a game where the other team scored a TD because no one lined up to cover one of their receivers. This almost cost us against Missouri—I remember the announcers commenting how strange it was. I don't remember this happening last year. It never seems to be a problem for our opponents. Why us?
Field Goals/Special Teams- This has been a downer all season. Our punt return game is generally poor. With the FG's, we screw up short attempts by DeAngelis. Then, on two occasions (from the 32 and the 33), we don't try long fieldgoals by Dyches. Instead, we attempt passes with Dailey. I'd rather see Dyches miss than a Dailey pass attempt on 4th and 11. We seem to be having way more trouble in this area than last year. We have the same two kickers on the roster, but the one who made just about everything last year rarely gets a chance.
Play Calling- Dailey has got to be one of the worst passers on 3rd and short I have ever seen. Norvell and Callahan don't seem to agree. We routinely throw rather than run when we need 2, 3, and 4 yards. Dailey continues to miss badly on these passes, or he throws near-interceptions or actual interceptions. We have a better chance running with our 4th string tailback than we do with Dailey passing.
Also, in the Iowa St. game in particular we came out on offense with a throw-first mentality. Did Callahan think this was a gimmie game, and he could use it to improve on Dailey's woeful passing against K-State and Mizzou? By the time Dailey went from pitiful to semi-decent, we were already in a huge hole.
NFL?- I would love to know if Callahan is coaching Dailey to run out of bounds at the end of scrambles rather than get hit. If so, I'd have to ask what part of Dailey's game is being protected here. It's not like he's Kurt Warner back there. Dailey routinely steps out before getting hit when he's just a few yards away from a first down (or, in the case of the Southern Miss game, a winning TD). Mickey Joseph took on contact better than Dailey does.
Solich's Legacy- It's official: The new coach is going to have done worse in year one than the fired coach did in the year in which he was sent packing. At the beginning of the season, I was inclined to give Callahan and his staff the benefit of the doubt. Nine games in, it's clear they don't really deserve it. One would hope that new coaches being brought in to the tune of 6-figure salaries could bring the team up a notch—that they wouldn't lose games they shouldn't—but that's not what has happened. Even if the talent level dropped a lot under Solich, we should be able to beat Iowa St. when we're in control of the Big 12 North. That this team came out flat and lifeless (again, on the road) speaks volumes. Somewhere Barney Cotton has to be laughing at Steve Pederson.
AGAINST OKLAHOMA
We can make a game of it if Ross's turf toe gets better, Dailey somehow hits Fluellen on a deep ball or two, and Oklahoma turns the ball over. These things can happen, but this is the best team we will have played by far, plus it's a road game. The only encouraging thing is that Oklahoma's D has given up 35 points in both of their past two games. Maybe they won't take us seriously. I'm hoping for some combination of the above factors, plus a breakout performance from someone on the D-line. We will need to pressure White, because OU's receivers are going to be open frequently against our secondary. This week would be a great time for a huge game from Ruud and either of the Bullocks brothers (both would be swell). There are some other players Nebraska has who do belong on the same field with Oklahoma. Here's to them playing like it on Saturday.
At this point, though, I'm just hoping we beat Colorado. And that Harrison Beck doesn't change his commitment.
---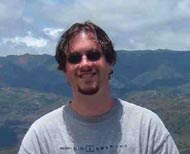 The voice of Scarlet Commentary is Jeffrey A. Leever, a Nebraska native also stuck behind enemy lines in Jefferson County, Colo. He is a 1994 graduate of the University of Nebraska (Kearney) and a freelance writer and author. Some of Jeff's writings of the nonfootball kind can be found online at Barnes & Noble (1, 2), Amazon.com (1, 2), and MenofIntegrity.net (1, 2, 3, 4, 5). Contact Jeff at splasheditorial@hotmail.com.