"Allen Webb has been made to look like an all-American today," was the radio announcer's comment after LeKevin Smith—he of pre-game trash talkin'—blew a tackle in the backfield leading to a 4th quarter KSU touchdown.
Alas, the defense that held Kansas without a TD has given up more than 47 points a game over the past three contests. Truth be told, the way this defense is playing there isn't a team left on the schedule that can't make us look bad. Kansas St. lost to Kansas, but made us look silly. Road games obviously aren't a Callahan strength.
Dailey couldn't seem to complete a pass in the second half. The offensive approach was to run twice to set up a Dailey incompletion on 3rd and long. When the chips are down, Dailey is a turnover waiting to happen—see three straight turnovers late in the game. Whenever we'd get close score-wise, Dailey would go in the tank and not be able to complete a pass. He went from breaking the school passing record last week to 3 of 12 with a pick.
Field position certainly put Dailey and our offense in a hole, because our defense couldn't stop anything. The defense was on the field a lot, which never helps any team, but they kinda did things to keep themselves on the field. They're playing like a team that can't get over 70-10. Our offense had two big plays, but managed little else. Zero passes to Fluellen, Pilkington, LeFlore, or Herian. It's hard to imagine these guys not being open all game.
Washington still can't seem to cover most opponents very well, Lornell McPherson's interference flag was big. Overall, this defense is playing impotently. Several times we'd have only two defenders on the side of the field where KSU had three receivers. Then, when we did get a third defender on the correct side, Sievers lined up in coverage on their guy who runs a 4.2 40.
Much has been made of Cosgrove and what's going on at Wisconsin now with their D being pretty stellar. It's hard not to agree. At the same time I recall Charlie McBride being on a lot of people's caca list for many years. Then he started getting better players to work with and began to look like a genius. Kansas St. didn't exactly make Pelini's D look that great last year, either.
Unless Callahan cans Cosgrove after only one year (a rarity in college football, especially at Nebraska), I think we're stuck with hoping better talent comes in and overcomes coaching shortcomings. Whatever the problems are, it's disappointing to see this year's coaching staff be unable to coach this team to a better performance than the talent level would otherwise achieve. Instead, we appear to be playing down a notch. This has been the case in every game but the opener.
Bottom line: We didn't get any real breakthrough performance from anyone on the defense, nor a turnover-free performance from Dailey (not even close). Hence, another loss.
THIS WEEK
Two years ago, in the middle of a listless season (and a lot of bad defense), the Huskers managed to come up big against Brad Smith and Missouri. It's hard to envision how we are going to beat them this year. The Tigers, too, are coming off a loss—I'm not sure if that's a good thing or bad. At least it's actually going to be televised.
I'll watch…and hope the home crowd can somehow do something Cosgrove and Callahan seem unable to: Get this defense to play well.
---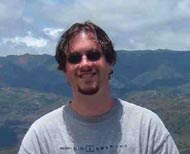 The voice of Scarlet Commentary is Jeffrey A. Leever, a Nebraska native also stuck behind enemy lines in Jefferson County, Colo. He is a 1994 graduate of the University of Nebraska (Kearney) and a freelance writer and author. Some of Jeff's writings of the nonfootball kind can be found online at Barnes & Noble (1, 2), Amazon.com (1, 2), and MenofIntegrity.net (1, 2, 3, 4, 5). Contact Jeff at splasheditorial@hotmail.com.