For those who remember--who have been Scarlet Commentary readers from the very beginning--you may recall that I like to provide a "service" this time of year (read: a "couch potato" service). That is, providing you with a Husker-oriented rationale for watching NFL preseason games.
With the "Hall of Fame" weekend concluded, we now look toward the rest of August. If, as these final weeks unfold before the Huskers' opener, you need a little justification before planting yourself in front of the television, this is the place where we make it happen.
Why?
Well, the current Huskers are practicing; preparing for the upcoming season. And you, the fan, are waiting. Meanwhile, watching NFL preseason games can be…well…boring. But hey, they're still football.
And thus the seed of rationalization begins.
What follows is a team and player breakdown to use as a guide for the games that remain. (Note that these are only nationally televised games. There will be other games, possibly, televised in your area that afford an opportunity to check out other former players. Check your local listings for times.)
Thursday, August 11, San Diego at Green Bay (ESPN)
Scarlet Comment-
SAN DIEGO: Chargers have DL Ryan Bingham, DB Jerrell Pippens, LB Carlos Polk (who's recovering from an injury), and OL Toniu Fonoti.
GREEN BAY: Green Bay has Pro Bowl RB Ahman Green and DB Erwin Swiney. Compared to most games, this one's a former Husker extravaganza .
'Tis worth noting that the man who brings you all things Huskerpedia, David Max, is a Southern California resident. San Diego starts the preseason with more Huskers than anyone. Coincidence?
Monday, August 15, Philadelphia at Pittsburgh (ESPN)
Scarlet Comment-
PHILADELPHIA: Eagles have RB Correll Buckhalter, who is also recovering from an injury.
PITTSBURGH: Steelers have no Huskers. (They should bring back Barron Miles.)
Thursday, August 18, New Orleans at New England (FOX)
Scarlet Comment-
NEW ORLEANS: This is your lone nationally televised opportunity to watch a newly drafted Husker—DB Josh Bullocks--in action. (Barrett Ruud & the Bucs and Fabian Washington & the Raiders are not featured in any nationally televised preseason games.) Keyuo Craver is also on the Saints roster, but he's kinda had some, uh, trouble with controlled substances.
NEW ENGLAND: Super Bowl Champs have OL Russ Hochstein, a classy guy.
Friday, August 19, Minneapolis at N.Y. Jets, (CBS)
Scarlet Comment-
MINNEAPOLIS: DB Ralph Brown tries another team.
NEW YORK: DE Trevor Johnson and RB Josh Davis.
Monday, August 22, Dallas at Seattle (ABC)
Scarlet Comment-
DALLAS: LB Scott Shanle.
SEATTLE: DE Grant Wistrom and PK Josh Brown.
Thursday, August 25, Atlanta at Jacksonville (ESPN)
Scarlet Comment-
ATLANTA: Williams and Johnson again.
JACKSONVILLE: Nondrafted DE Bernard Thomas takes his bold ways to Jacksonville.
Friday, August 26, Pittsburgh at Washington (FOX)
Scarlet Comment-
A no-Huskers-on-either-team shutout. I'm supposed to be nice to Pittsburgh, though, because that's where my literary agent lives.
Saturday, August 27, Indianapolis at Denver (CBS)
Scarlet Comment-
Egads…no Huskers again. OL Josh Sewell had been with the Broncos up until recently, but decided football was no longer for him.
Monday, August 29, St. Louis at Detroit (ABC)
Scarlet Comment-
ST. LOUIS: DB DeJuan Groce, John Parella, and OL Richie Incognito (if you count him still a Husker). During the game, if Incognito makes a crushing block, say "former Husker." If he gets an unsportsmanlike conduct penalty, say, "I think he went to Oregon." (Wonder how Parella and Incognito will get along once they have to go against each other in practice?)
DETROIT: OL Dominic Raiola and RB Corey "Winning TD in the National Championship Game" Schlesinger.
Remember, there are other Huskers out there to be seen in various regionally broadcast games, depending on where you live. Tune in, if you have the chance…or nothing better to do.
T h e 2 0 0 5 H u s k e r s
Before spring practice I wrote a column saying that Zac Taylor was going to supplant Joe Dailey at QB. It was, at least in my mind, only a question of how soon.
Last year people "swore" to me that there were receivers open all over the field that our QB seemed incapable of getting the ball to. Others "swore" to me that our QB would get better as the season progressed. Others…simply swore.
Bottom line: There should be no way we play worse with Taylor (or Harrison Beck) than we did with Dailey. We will be a better team. Better QB play alone should translate to at least 2-3 more wins than last year. If we get more wins than that, great. The rest of the team being better would help things too. But the QB position--all by itself--is worth more than some people like to pretend.
The new question for 2005 is: How many games will Taylor start before he has a bad one and Callahan puts in Beck?
That's it, my friends. Enjoy life with your remote controls. If you've read each of my columns from the debut one a year ago (which is no longer online) all the way up through now, I probably owe you a Runza or something.
---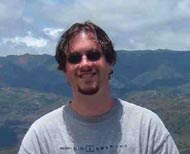 The voice of Scarlet Commentary is Jeffrey A. Leever, a Nebraska native also stuck behind enemy lines in Jefferson County, Colo. He is a 1994 graduate of the University of Nebraska (Kearney) and a freelance writer and author. Some of Jeff's writings of the nonfootball kind can be found online at Barnes & Noble (1, 2), Amazon.com (1, 2), and MenofIntegrity.net (1, 2, 3, 4, 5). Contact Jeff at splasheditorial@hotmail.com.