ELTEE Mangalitsa's
Nebraska Grown Gourmet Pork
Pender, NE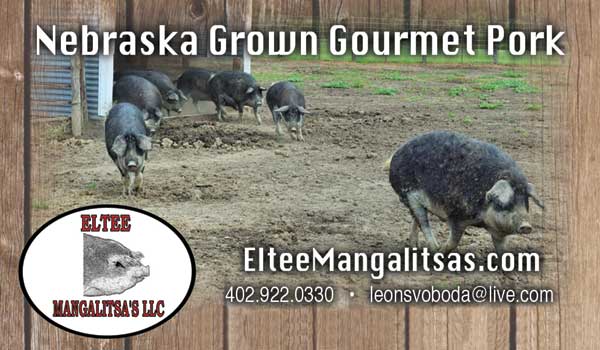 Nebraska raised specialty pork for grilling and tailgating. We raise a rare breed of swine named Mangalitsa's on our family farm, near Pender, Nebraska. Because of their unique genetics, Mangalitsa's consistently produce meat with unparalleled tenderness, moisture and flavor. (A unique alternative to pork products from commercial breeds and other heritage breeds.)
We live and work on our family farm, located in Husker Country and are proud to have the opportunity to raise this special breed of swine. Every day we strive to produce the highest quality products while using sound animal husbandry and farming practices.
We offer our customers a variety of quality purebred Mangalitsa pork products. Mangalitsa, the most versatile breed of swine. From high-end charcuterie, to the best burger and brats, to unsurpassed lard.
Please contact us via e-mail or phone for more information or to place an order. We look forward to hearing from you.
Leon and Tami Svoboda
ELTEE Mangalitsa's LLC
Pender, Nebraska
Cell: 402-922-0330
E-Mail: leonsvoboda@live.com
Website: www.elteemangalitsas.com
Facebook: ELTEE Mangalitsa's LLC