Peppermill Cafe
Valentine , Nebraska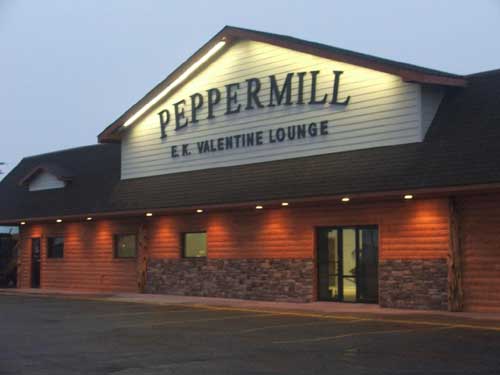 The Peppermill Tradition started humbly in the Fort Niobrara Hotel and Peppermill Café on Main Street in Valentine, Nebraska. William and Betty Joseph found excellence on the steak grill and dedicated themselves to a high standard of service. Their son, Roger Joseph, was also committed to service and maintained an incredible aging program that assured the strength of the Peppermill reputation. Now, as the third generation, 2001 Nebraska graduate, Robert Joseph has been trusted to continue the tradition.
The new Peppermill and E.K. Valentine Lounge, with its new location on Highway 20 in Valentine, is a full service restaurant, catering service and bar specializing in American steak, seafood, sandwich, and salad entrees. The bar and restaurant is open 7 days a week and current hours, specials, and events can be found at peppermillvalentine.com.
Location: 502 East Highway 20, Valentine, NE
Hours of operation: Mon-Sat 11am-1am, Sun 5pm-1am
Phone:402-376-2800
Fax: 402-376-2807
Website: peppermillvalentine.com
Email: peppermill@threeriver.net