The Look and Feel of the UCLA Game
To the pure delight of some and the tongue-in-canker-sore dismay of perhaps many others, I've resurfaced for the first time in the '13-'14 Husker season and the sixth year of the Pelini experiment. As was common for many Big Red faithful, the long off-season began with stunned silence after witnessing NU's "bend don't break" defense overlook the "don't break" part by amassing 1200 yards, 115 points and lots of questions in its final two games.
New season, new hope, new heralded talent, and right out of the gate, a new 600 yard surrender to a Mountain West also-ran. Suddenly the new season raised a lot of old questions, but let's table those questions for now. Why? Because regardless of how absurdly inconceivable it is that NU could pile up 1800 yards and a tick under 150 points in the span of 3 consecutive games, the rules of college football grant a mulligan in Game One against an under-rated opponent, with a boatload of new starters on D.
Likewise, scoreboard is truly the only thing that matters and if you doubt that, all you need to do is compare NU's shaky Wyoming win versus Texas' smirk-causing loss to BYU. The Mormons unapologetically trampled the Horns in an offensive explosion that actually ended in the same 600+ yardage hood as what the 'boys piled on NU. The difference being Bo was able to kick the can down the road by retreading his five year old line of "needing to fix some things" and in Texas, Mack Brown tossed another coach into his ever-growing boneyard of misguided blame in a waning attempt at self-preservation. Therefore, until an ugly W becomes another ugly L, there's no point in complaining and we'll look at the implications of the UCLA outcome after a few rants on a couple of other game-related issues.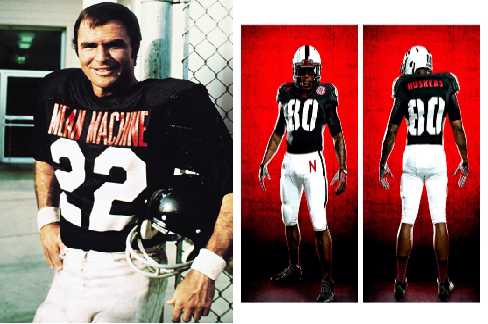 First, the brash alternate uniforms to be worn Saturday against UCLA. Whichever salesperson snake-oiled these contracts pulled a coup, but they've got the whole campaign wrong by pushing these during the biggest games. The max exposure concept is sound, but who wants to watch a classic match-up when the two teams look nothing like the iconic programs you tuned in to watch. Worse yet, UCLA won't wear alternate unis, while NU will don its black-shirted, red-lettered "Unrivaled" get-up which will look something akin to UCLA playing the original Mean Machine from The Longest Yard. The whole tough-look concept also has the high-potential of getting quickly shattered when the original designer that made it trendy to drop 600+ yards on NU's D is coming to town and has the very real potential of doing it again. If you have to wear the alternate unis, pick a sure-win game that needs a little added excitement, although those aren't as easy to predict as they used to be.
Next, the unrivaled sportsmanship shown by the Husker faithful is the enduring soul of the program, but once in a while NU superimposes its sportsmanship over the top of the pure gesture, like the self-proclamation of being "The Greatest Fans." NU wearing a helmet sticker to acknowledge the tragic death of an opponent's teammate is one of those best intentioned, but overbearing instances. A pre-kickoff acknowledgement of regret would do fine, but "wearing it" is not Nebraska's place. Nick Pasquale was not a national hero, but the iconic Rudy figure of UCLA's scout team. Nick will clearly be UCLA's added inspiration for winning on the field of battle against NU. NU's gesture almost breaks a law of gladiator sport and dilutes the message that Nick was the embodiment of UCLA's fighting spirit. In short, Nick was a member UCLA's family, not NU's, so pay one's respects by giving the Bruin team the exclusive honor of carrying their own fallen brother home.
Speaking of the UCLA game, Nebraska has a lot more riding on it than looking good fashionably or in the court of public opinion and the coaching staff in particular should feel this game equals more than one game. For five years all kinds knobs and levers have been turned and pulled, explanations made, and statistics baked on both sides of the aisle. NU is one of only four schools with 9 or more wins in five consecutive years and likewise is the only one of the four not to win a conference title and play in a BCS bowl during that span. In its 4 losses NU gave up an average of 595 yards and ranked 122 out of 123 teams in total defense. Wins have piled up, but no so much in the biggest games.
UCLA is by no stretch Alabama and no one believes this game has national title implications, but the Bruins are without a doubt a no excuses opponent. It's a big-time game for these two teams. Many fans demand the Huskers compete and win against good, not great teams. At this point a win in any fashion against UCLA will satisfy many as it would mean the Huskers are on the right trajectory. Losing a tight contest with the same defensive ineptitude as last year will be difficult to digest and worst case, being handily beaten at home would be tough to swallow altogether.
It's an odd match-up in that UCLA is ranked 7 spots higher in one poll and 2 spots lower in another. Despite UCLA winning last year and this year pummeling a more highly regarded Mountain West team than the one NU escaped doesn't add up to the point spread favoring NU by 4.5 (granted 3 of those are due to home field).
Missing this year are stars Fauria and Franklin, but UCLA's magician QB Hundley returns behind a loaded o-line that were almost exclusively green freshmen and sophomores last year. No one is going to accuse the Bruin's D of greatness, but they have two occasionally disruptive DEs and LB Anthony Barr has become a star having taken the Cody Glenn route from RB to LB to new levels. Their DBs are young and serviceable with partisans waiting for a breakout performance. Regardless, the stacked Husker skill players on offense should be able to score enough points to win any game as long as the still suspect o-line has one of its good days.
Seemingly, with the over/under being 72 points, Vegas expects a repeat of last year when neither D stopped much of anything, but this year they expect NU to win the track meet. To no one's surprise this writer is a skeptic, primarily based on two simple things. One, UCLA had an error prone game, yet destroyed a better-than-Wyoming Nevada team. Yes, UCLA also experienced 600+ yards, but they were the giver not the taker. Second, team speed is likely going to noticeably favor the Bruins. Barring Gregory, NU's D still looks a step slow, even against very average teams which, when compounded by youth-uncertainty makes them even slower. If it does become a race to 50 points, the money is going to be on the more athletic D to make the key stop. If NU's o-line doesn't show up and/or UCLA's young talent has a coming out party in a spotless effort, the game could become uncomfortable to watch.
The best news is the exact opposite could happen, NU could find that elusive gel, and UCLA could spiral into one of its famous implosion games. In that event, until further notice, a win against a solid opponent will mean the Big Red arrow is pointing up. After a rough finish in 2012 and lackluster 2013 start, that is the outcome this team and more so this coaching staff desperately needs. Go down hard and no matter how NU adorns itself, it's won't be pretty. GBR.
Email Angry Dad at NUAngryDad@gmail.com and Follow Angry Dad at twitter.com/nuangrydad