My 2 Cents
10/28/07
Texas Game
Commentary by David Max

I made the trip to Austin for the game and before I left friends and co-workers were asking me why would I want to go to a game where we were 3 touchdown underdogs. At the beginning of the season I wouldn't have thought we would have been the biggest underdog in distant memory. When I bought my plane ticket we were 4-1. Now we are 0 for October for the first time since before I was born in 1951 (1948). What a difference a month makes. Steve Pederson is gone, Tom Osborne is in and Bill Callahan can't make any promises to recruits because he is uncertain about his future at Nebraska.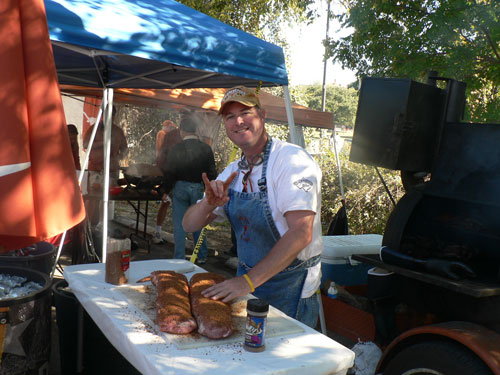 If you have never been to a game in Austin you should put it on your schedule four years from now. The Texas fans go out of their way to make Nebraska fans welcome. They still talk about the standing ovation given to Ricky Williams and the Texas team after the 1998 game in Lincoln. I made the trip in 1999 with mom and had a great time. Robert Agnor and the folks from Hornfans.com rolled out the red carpet again this year. Thank you very much. When Texas comes to Lincoln in 3 years you are all invited to be our guests at our tailgate in Lincoln.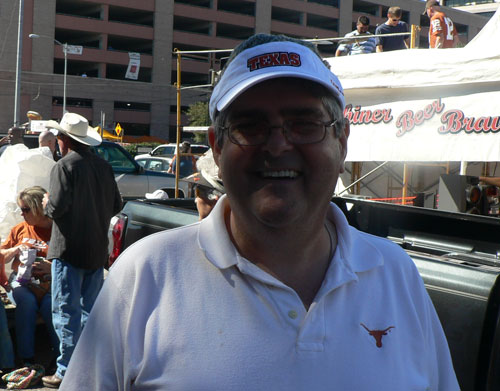 I did have one interesting encounter with a Texas fan named Jerry Davenport. He walked up to me and said "Are you the one?" I said "Which one?" He said "The Callahan supporter!" When I hesitated he took my response to be a "No." I saw him an hour later and he was still looking for the first Nebraska fan to be willing to give Coach Callahan a vote of confidence. I didn't see him after the game so I don't know if the results of the game had any effect on his one man survey. It remains to be seen if Coach Callahan will be back next year but I think it is safe to say Vegas wouldn't give him very good odds. The speculation and rumors about big boosters negotiating a resignation are still out there and will most likely continue in spite of the great team effort in Austin.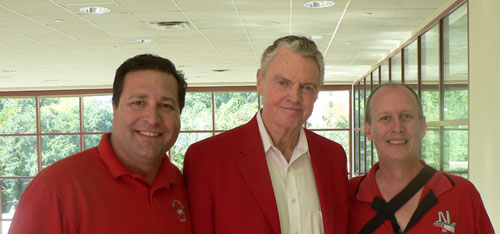 I went to the game with Kent Wiedel who preceded me as President of Californians for Nebraska and we decided to stop by the Chancellor's reception on our way to the game. We ran into Coach Osborne on the way in and talked with him about being our guest speaker at our Founder's Day banquet. Hopefully we can match up with his schedule when he makes a trip to California in January. We have already lined up our academic speaker. It is none other than Willa Cather. No, we didn't resurrect the famous Nebraska author that passed away in 1947. It is her niece with the same name and she has lots of interesting stories about her famous aunt. It would be real nice to have her and Tom on the same dias.
| | |
| --- | --- |
| | |
It was so nice to see the all out effort by the entire team in Austin. It was a totally different team that showed up compared to the previous three games. In spite of the loss I see it carrying forward into the next three games. The Nebraska fans at the game were into it throughout the entire game. I was in the "can't hit a cheerleader with a deer rifle" seats reserved for the visiting team in the upper deck block. Kind of reminded me of the great seats that USC rewarded us for buying them early for the game in Los Angeles. There were three guys a few rows in front of us that I am sure had no voice left this morning. The guy pictured above did his share of leading Husker - Power cheers. Brenden Stai and his father were sitting in my row and Arleen Heibel's daughter Julie sit next to me. Behind me was BBS poster BaylorMatt's mother and two sisters. We had our own little slice of Nebraska there.
It remains to be seen what November will bring for the 2007 version of the Cornhuskers. This has been a season unlike any other that I can recall since becoming a fan in 1962. I do not see the team going 0 for November as well and believe they will use this game as a turning point and play with the reckless abandon that they exhibited in Austin. I can't make the trip to Lawrence or Boulder due to a commitment called work but I will be at the home finale in Lincoln against Kansas State and Josh Freeman. We will have our biggest tailgate ever and I would like to extend a special invitation to the parents of current players and former players to stop by for great BBQ by Marlin. That game will be the first game that mom will attend in person in two years due to health reasons. I have made arrangements for indoor seating with wheelchair access so she won't have to walk any distance. She will be at the tailgate and would enjoy seeing all the HuskerPedia™ friends she has made over the years. Johnny Rodgers will also be there for an autograph session. Let's send this senior class out on a positive note by showing our support for the entire game just like our little group did yesterday in Austin. Come early to the tailgate, give the seniors a standing ovation as each one is introduced, stay for the whole game no matter what the score and let them know they have our support as they leave the field for the last time in Lincoln.
As the Colonel always says "Keep the Faith." Nebraska will be Nebraska again.
Just my 2 cents. What about yours? More pictures from the Texas game are here. Responses are here.
GO BIG RED!!!