My 2 Cents
9/29/09
300th Sellout Game against LA-Lafayette
Commentary by David Max
To be a part of the 300th consecutive sellout crowd since 1962 is a real honor. I actually didn't get to attend a game in person until the 1963 season which was a loss to Air Force. Over the years I have probably attended more than 100 of those sellout games and I have live in California since 1975. I don't think Dad missed a game for 20 years from 1964 when we first got our season tickets until the 1984 season when he was sidelined with health problems. Mom continued to go to games until 2005 and made it to one last game in 2007 thanks to the generosity of Larry the Cable Guy. Our good friend Arleen Heibel who sat in front of us since 1964 until this season has made it to 295 of the 300 games and was there last Saturday in her new seat in the handicapped section below the student section. I stopped by the Pavilion before the game and got her personalized autographed pictures from Johnny Rodgers and Tommie Frazier. She is keeping the student section active by leading the cheers there. Her legs aren't strong enough to climb the ramp anymore but she is still able to cheer loudly for her beloved Huskers. There were several fans dressed in "retro" including several Bob Devaney outfits. I have more game day pictures here. It was a nostalgic evening all around.
| | |
| --- | --- |
| Click on the picture for a larger image. | Click on the picture for a larger image. |
I was at the Friday night 1962 team dinner reception and took several pictures. It was nice to finally meet in person two people that I have interviewed for HuskerPedia™, Erny Bonistall and Larry Tomlinson as well as seeing Dennis Claridge again. I met some of them for the first time including Coach John Milton. I introduced myself to John and said "Hi, I'm a friend of Jerry Murtaugh." He laughed and said "Jerry Murtaugh doesn't have any friends." Of course that's not true as John and Jerry have been good friends since Jerry's playing days at Nebraska and John was a repeat guest on Jerry's radio show last Saturday. You could feel the camaraderie in that room from players and coaches that hadn't seen each other in many years. I have been trying for several years to get a press pass for HuskerPedia and so far have been told HuskerPedia™ has not met the criteria required as a national media. I will keep applying until the sports information office determines that HuskerPedia™ and its 250,000-plus readers from all over the globe do qualify as a national media. In the meantime I picked up this press pass from the 1962 Missouri game originally issued to Mel Allen who was working for CBS Sports at the time. Maybe someday if I buy CBS HuskerPedia™ will qualify for a press pass.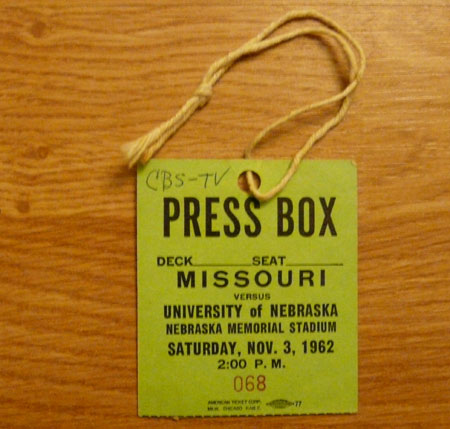 The tributes during the TV timeouts from Keith Jackson, Barry Switzer, Barry Alvarez, Turner Gill, Frank Solich, and Tom Osborne stirred a lot of emotion in the crowd and added to the special evening. The videos and fireworks at the end of the game topped it off. The game itself was vintage Husker dominance where a lot of players got playing time. The only difference was there was 300 plus yards passing instead of rushing but we still wore down the opposition just like the old days. We are still struggling with some game management issues and are burning too many timeouts to avoid delay of game penalties but are improving overall with each game. I am looking forward to the Thursday night game at Missouri where we can get our statement win against a ranked team on the road and move up more than one place in the polls. Touchdowns in the red zone, winning the turnover battle, and not allowing big plays will be the keys. The Huskers are fun to watch and they are playing with passion. There is not a game left on our schedule that we cannot win. I will be watching the Missouri game at a Californians for Nebraska watch site and will be back in Section 17 of Memorial Stadium for the Texas Tech game joined by the Husker Elvises. We will make it a point at the end of the game to stop by the student section and see Arleen.
Just my 2 cents. What about yours? Selected responses will be posted here.
GO BIG RED!!!