A misidentified moment from the Game of the Century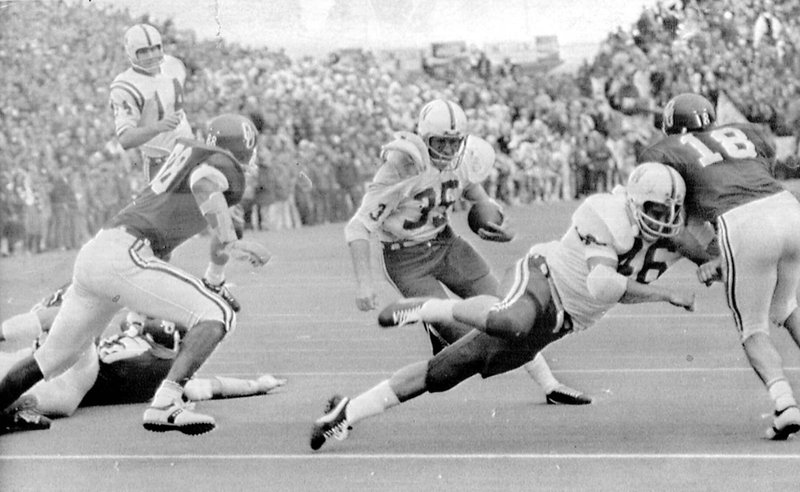 On the 49th anniversary of the Game of the Century, it's time to set the record straight about the above photo from the classic 1971 Nebraska-Oklahoma clash in Norman.
The image, apparently shot by a Lincoln Journal Star photographer, has been described in a number of publications as showing the winning touchdown, scored by Jeff Kinney with 1:38 remaining. It is noted that a block by fullback Maury Damkroger is helping to clear the way.
For years, a copy of the image was displayed in the now-defunct Touchdown Club, the late Butch Rasmussen's Husker-centric sports bar in North Platte. Several years ago, Rasmussen penned a 2,100-word column about the iconic photo and the "Play of the Century" it represented.
There's just one problem: It's a photo of a different play.
Video footage of Kinney's winning touchdown shows Damkroger blocking Oklahoma's No. 59, linebacker Mark Driscoll, and then going to the ground. In the photo, the recipient of Damkroger's block is No. 18, cornerback Steve O'Shaughnessy.
How the photo came to be incorrectly labeled is anyone's guess. Mistakes happen. The error appeared as far back as 1987 and as recently as this week.
So, which play does the photo actually show?
HuskerMax reviewed every touch by Kinney in the game footage, paying close attention to the condition of his tear-away jersey, the direction of the run and the other players involved. The only play that matches up with the photo is the game's final snap.
While it wasn't the winning touchdown, the three-yard gain on fourth-and-1 wasn't just another play. If Damkroger had missed his assignment and Kinney had come up short, the Sooners would've had one last shot with three seconds left — an extreme longshot at 95-plus yards, but a shot nonetheless.
Instead, it was now safe for the Huskers and their fans to cut loose and celebrate the unforgettable victory.
---