1970 Day by Day: Sept. 9

Sept. 9: Huskers ease up as game nears
.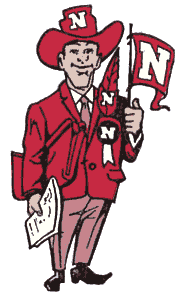 With Jerry Tagge appearing more and more certain to start at quarterback against Wake Forest, there was growing concern Wednesday about Van Brownson's ailing right elbow.
"We're not even sure what the problem is," coach Bob Devaney said, adding: "I'm concerned about it even beyond Saturday."
Devaney said Tagge's sore leg was improved Wednesday, although "we didn't ask him to do much running."
Wake Forest was expected to pressure the quarterback from unexpected angles, and the Husker offense was preparing for "every stunt we can imagine," the coach said. Keith Wortman and Bruce Weber shared time on the first unit Wednesday at left guard, with the starter still to be determined.
Wednesday's session lasted 90 minutes instead of the usual two hours, and light workouts were scheduled for the next two days.
In other news, Sports Illustrated's college football preview issue had the Huskers ranked fifth nationally, four spots higher than Nebraska's Associated Press ranking. SI's top four: Ohio State, Mississippi, Arkansas and Texas.
---
SAVED SEARCHES
https://www.newspapers.com/search/#query=devaney&ymd=1970-09-10&p_place=NE
https://www.genealogybank.com/explore/newspapers/all/usa/nebraska?fname=devaney&lname=&fullname=&rgfromDate=&rgtoDate=&formDate=09%2F10%2F1970&formDateFlex=exact&dateType=date&kwinc=&kwexc=
CAN DROP INVISIBLE TEXT HERE