1970 Day by Day: Sept. 3

Sept. 3: Hurtin' Huskers wrap up two-a-days
.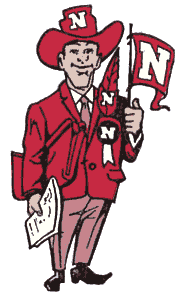 It was the last of the two-a-days Thursday, and a few more banged-up Huskers joined the list of those who might sit out Saturday's scrimmage.
Things were so thin at center that coach Bob Devaney called up Dan Anderson in Fremont and had him rejoin the squad. Anderson had not been invited to fall camp after taking part in spring drills, but now he was snapping for the third-team offense. John Kinsel was No. 2 behind starter Doug Dumler.
The following players were considered doubtful for the scrimmage, the final major tune-up for the Sept. 12 opener against Wake Forest:
Quarterback Van Brownson (sore throwing elbow).
Offensive guard Bob Grenfell (groin injury).
Linebackers Bob Terrio and Bruce Hauge (muscle injuries).
Middle guard Monte Johnson (sprained ankle).
Devaney expected all five back before the opener.
With Brownson sidelined, Bob Jones quarterbacked the second team Thursday, and fellow sophomore Steve Runty led the No. 3 offense. Runty had recently returned to quarterback after a fling at flanker.
In other news, Missouri edged the Huskers for the top spot in the Big Eight preseason poll released by the conference Skywriters, fresh off their tour of the league's gridiron camps. Missouri and Nebraska each collected 10 of the 27 first-place votes.
---
SAVED SEARCHES
https://www.newspapers.com/search/#query=devaney&ymd=1970-09-04&p_place=NE
https://www.genealogybank.com/explore/newspapers/all/usa/nebraska?fname=devaney&lname=&fullname=&rgfromDate=&rgtoDate=&formDate=09%2F04%2F1970&formDateFlex=exact&dateType=date&kwinc=&kwexc=
CAN DROP INVISIBLE TEXT HERE
---
---
---