1970 Day by Day: Sept. 24

Sept. 24: Cox gets the call at split end
.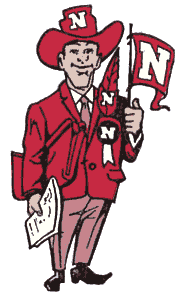 Senior split end Guy Ingles practiced Thursday for the first time since the Southern Cal game, but his painful rib injury meant his status for Saturday's game against Army remained iffy. It was announced that Woody Cox would start in his place.
Cox, a 5-foot-9 junior, transferred to Nebraska over the winter from New Mexico Military Institute.
At I-back, no starter was named, but coach Bob Devaney said it didn't matter much, as Jeff Kinney and Joe Orduna would get "about equal time" regardless of the pick.
Pat Morell moved past fellow junior Bob Terrio for the top spot at one of the linebacker positions.
Jerry Tagge was set to start again at quarterback, with Van Brownson slated for plenty of action after missing the first two games with a sore elbow.
Jeff Hughes got the nod over Dan Schneiss at punter, which was a question-mark position after Hughes' off night against Southern Cal.
A half-hour practice was on tap for Friday afternoon, to be followed by a game-like scrimmage between the freshman squad and the scout team on the grass practice field.
---
SAVED SEARCHES
https://www.newspapers.com/search/#query=devaney&ymd=1970-09-25&p_place=NE
https://www.genealogybank.com/explore/newspapers/all/usa/nebraska?fname=devaney&lname=&fullname=&rgfromDate=&rgtoDate=&formDate=09%2F25%2F1970&formDateFlex=exact&dateType=date&kwinc=&kwexc=
CAN DROP INVISIBLE TEXT HERE