1970 Day by Day: Sept. 2

Sept. 2: Snakebit at the center position
.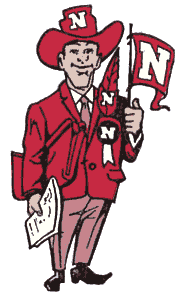 The Huskers took another hit at center as sophomore Doug Jamail suffered a badly sprained ankle during scrimmaging Wednesday.
Sophomore Doug Dumler now appeared to be a shoo-in to start in the Sept. 12 opener against Wake Forest. Dumler, who began fall camp at No. 3, took over the No. 1 spot after Bill Janssen broke his arm Saturday.
Also suffering a sprained ankle Wednesday was Monte Johnson. The sophomore had moved up to No. 2 at middle guard just two days earlier.
Wednesday's scrimmaging consisted of "four-down territory" work, with the offense starting 30 yards from the goal line. Jerry Tagge directed the No. 1 offense to several touchdowns against the No. 1 defense. When the No. 2 units squared off against each other, it was "pretty much a standoff," coach Bob Devaney said.
Van Brownson, operating the No. 2 offense, bruised his right elbow but wasn't expected to miss any practices.
The Omaha World-Herald said these position battles on defense had yet to be settled:
John Hyland vs. John Adkins at left end.
John Pitts vs. Willie Harper at right end.
Rich Glover vs. Larry Jacobson at tackle.
Ed Periard vs. Johnson at middle guard.
John Decker vs. Bill Kosch vs. Joe Blahak at left cornerback.
Kosch vs. Gary Hollstein at safety.
---
---
---
---