1970 Day by Day: Sept. 10

Sept. 10: Starting lineups firmed up
.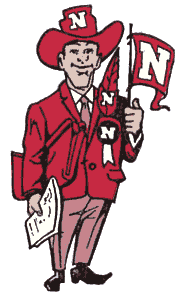 Likely starters were named at all positions but one after Thursday's light workout. To nobody's surprise, Jerry Tagge got the nod at quarterback even though he was running at only two-thirds speed by coach Bob Devaney's estimation.
Van Brownson's ailing right elbow finally showed some improvement, and Devaney said the junior signal-caller might suit up for Saturday's opener against Wake Forest. Brownson's ball handling during Thursday's drills did not include any passing.
The only starting spot in question was left offensive guard, where Keith Wortman and Bruce Weber were still settling things. Otherwise, the Cornhuskers' starting elevens looked like this:
Offense
TE: Jerry List
LT: Bob Newton
LG: Wortman/Weber
C: Doug Dumler
RG: Donnie McGhee
RT: Wally Winter
SE: Guy Ingles
QB: Jerry Tagge
IB: Jeff Kinney
FL: Johnny Rodgers
FB: Dan Schneiss
Defense
LE: John Adkins
LT: Rich Glover
MG: Ed Periard
RT: Dave Walline
RE: John Pitts
LB: Jerry Murtaugh
LB: Bob Terrio
MON: Dave Morock
CB: John Decker
CB: Jim Anderson
S: Bill Kosch
Seven of the projected starters were about to see their first varsity action — sophomores List, Dumler, Rodgers, Pitts and Glover, and junior college transfers Terrio and Wortman.
Even though university classes weren't starting until Monday, a full house of 66,000-plus was expected for Saturday's 1:30 p.m. kickoff against the lightly regarded Deacons. Two interested parties who wouldn't be there were Jim Ross, coach of the freshman team, and graduate assistant Jim Waldon. They were tasked with scouting Nebraska's second opponent, Southern California, in the Trojans' season opener at Alabama.
---
SAVED SEARCHES
https://www.newspapers.com/search/#query=devaney&ymd=1970-09-11&p_place=NE
https://www.genealogybank.com/explore/newspapers/all/usa/nebraska?fname=devaney&lname=&fullname=&rgfromDate=&rgtoDate=&formDate=09%2F11%2F1970&formDateFlex=exact&dateType=date&kwinc=&kwexc=
CAN DROP INVISIBLE TEXT HERE