1970 Day by Day: Oct. 24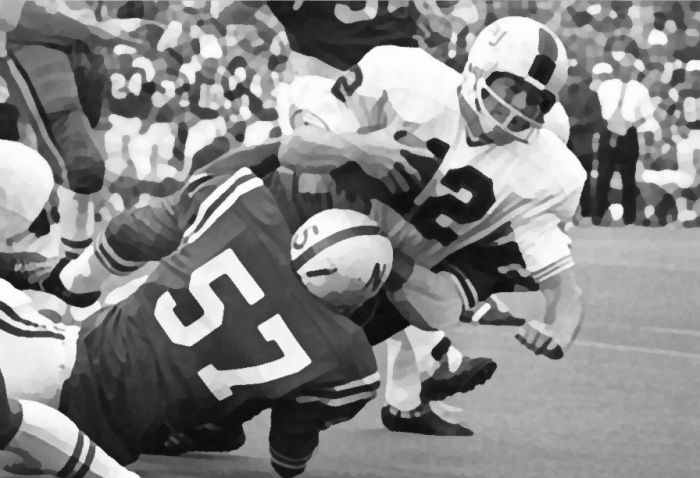 Nebraska defensive end John Adkins brings down flanker Dick Graham. The Cowboys managed just two first downs and 43 yards of offense in the first half.

Oct. 24: Huskers annihilate 'Pokes
.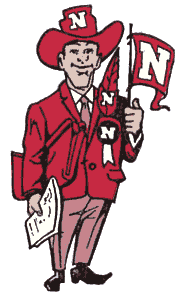 Piling up the most points by a Cornhusker team since 1922, Nebraska had a field day in swamping Oklahoma State, 65-31, on Saturday in Lincoln.
The Huskers scored first, yielded briefly as Oklahoma State scored on a 98-yard kickoff return for a 7-6 lead, then raced to a 41-7 halftime advantage. After that it was a matter of the reserves logging time and the Cowboys trying to salvage some glory.
NU's 27-point blast in the second quarter buried the Cowboys. Nebraska used 50 players in the game that saw Joe Orduna score two TDs, Paul Rogers kick three field goals, and Johnny Rodgers return a punt 66 yards for a score. The Huskers also scored twice on interception returns.
OSU quarterback Tony Pounds, who entered the game as the Big Eight's total offense and passing leader, was held to 17 yards passing in the first half. But in the second half alone, he set a Nebraska single-game opponent record for touchdown passes (four) — including an 84-yarder on the game's final play.
Go to the game page for coverage and highlights.
---
SAVED SEARCHES
https://www.newspapers.com/search/#query=devaney&ymd=1970-10-25&p_place=NE
https://www.genealogybank.com/explore/newspapers/all/usa/nebraska?fname=devaney&lname=&fullname=&rgfromDate=&rgtoDate=&formDate=10%2F25%2F1970&formDateFlex=exact&dateType=date&kwinc=&kwexc=
CAN DROP INVISIBLE TEXT HERE