1970 Day by Day: Oct. 19

Oct. 19: Van's the man for Big Eight honor
.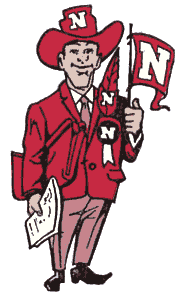 Quarterback Van Brownson was the unanimous pick Monday for Big Eight back of the week.
Brownson made the most of his first start of the season by passing for two touchdowns and running for two more in Nebraska's come-from-behind win at Kansas.
In reviewing the game, coach Bob Devaney liked how the Huskers responded after surrendering three quick touchdowns and falling behind by 10 points. Nebraska dug in and outscored the Jayhawks 31-0 the rest of the way.
Middle guard Bob Pabis joined the first defensive unit during Monday's practice because of a groin injury Ed Periard suffered against Kansas. Periard was expected to rebound in time for the upcoming game against Oklahoma State. The Cowboys, who were idle Saturday, resumed full practices Monday.
---
SAVED SEARCHES
https://www.newspapers.com/search/#query=devaney&ymd=1970-10-20&p_place=NE
https://www.genealogybank.com/explore/newspapers/all/usa/nebraska?fname=devaney&lname=&fullname=&rgfromDate=&rgtoDate=&formDate=10%2F20%2F1970&formDateFlex=exact&dateType=date&kwinc=&kwexc=
CAN DROP INVISIBLE TEXT HERE