1970 Day by Day: Oct. 18

Oct. 18: Huskers lead in standings, stats
.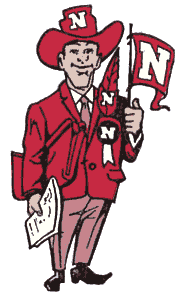 With the Kansas game in the rear-view mirror, Nebraska could begin focusing Sunday on facing the Big Eight's leading passer, Tony Pounds of Oklahoma State.
The Huskers, though, were no slouches themselves in slinging the ball. Nebraska's 59.8 percent completion rate was easily tops in the conference, and the Huskers had already set a school season record with 11 touchdown passes.
Nebraska continued to lead the league in total offense, rushing defense, total defense and scoring defense. The Huskers were just a fraction of a point shy of the top spot in scoring average.
Topping the charts in individual stats was much more elusive for the Huskers, due in part to their tandem approach at quarterback and I-back. Sophomore Johnny Rodgers was first in punt-return yardage and second in scoring.

Big Eight stats
1970 Six-game Big Eight individual stats · The Lincoln Star · Newspapers.com
NOTE: Illegible line in Pass Receiving between Ingles and Creed:
Graham, OS …. 17 rec, 236 yds, 1 TD
---
SAVED SEARCHES
https://www.newspapers.com/search/#query=devaney&ymd=1970-10-19&p_place=NE
https://www.genealogybank.com/explore/newspapers/all/usa/nebraska?fname=devaney&lname=&fullname=&rgfromDate=&rgtoDate=&formDate=10%2F19%2F1970&formDateFlex=exact&dateType=date&kwinc=&kwexc=
CAN DROP INVISIBLE TEXT HERE
---
---
---