1970 Day by Day: Oct. 1

Oct. 1: Huskers look healthy for trip north
.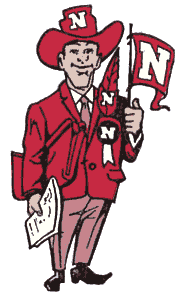 The game of musical chairs envisioned earlier in the week for Nebraska's offensive line was deemed unnecessary Thursday.
Coach Bob Devaney said starting right guard Donnie McGhee appeared good to go for Saturday's game at Minnesota. The senior had been dealing with a shoulder problem.
Health at quarterback had improved to the point that Nebraska planned to take just three QBs to Minneapolis instead of the four who traveled to Southern Cal. That meant Steve Runty would not be aboard Friday's 1 p.m. flight.
51-MAN TRAVEL SQUAD
Offense
Ends: Guy Ingles, Jerry List, Woody Cox, Phil Harvey, Bob Wolfe.
Tackles: Wally Winter, Bob Newton, Carl Johnson, Bob Grenfell.
Guards: Keith Wortman, Dick Rupert, Donnie McGhee, Bruce Weber, Mike Beran.
Centers: Doug Dumler, Doug Jamail, John Kinsel.
Quarterbacks: Van Brownson, Jerry Tagge, Bob Jones.
Halfbacks: Joe Orduna, Jeff Kinney, Johnny Rodgers, Jeff Hughes.
Fullbacks: Dan Schneiss, Jim Carstens, Bill Olds.
Defense
Ends: John Hyland, Willie Harper, Doug Johnson, John Adkins.
Tackles: Dave Walline, Larry Jacobson, Monte Johnson, Rich Glover.
Middle guards: Ed Periard, Bob Pabis.
Linebackers: Jerry Murtaugh, Pat Morell, Bob Terrio, Bruce Hauge, Steve Yanda, Dave Morock, John Decker, Jim Branch.
Backs: Bill Kosch, Jim Anderson, Joe Blahak, Tom McClelland, Paul Rogers, Gary Hollstein.
Out of Minneapolis came word that the Gophers were dealing with injuries at punter and several positions on defense.
In his weekly prediction column, the Lincoln Star's Hal Brown said the Huskers' No. 6 national ranking and their free-agent bowl status had them well positioned to be in the thick of a "virtual playoff" come New Year's Day.
As for the more immediate future, Brown predicted Nebraska would beat the Gophers, 31-14. The Harris Rating System, meanwhile, picked Minnesota to pull off an upset.
---
SAVED SEARCHES
https://www.newspapers.com/search/#query=devaney&ymd=1970-10-02&p_place=NE
https://www.genealogybank.com/explore/newspapers/all/usa/nebraska?fname=devaney&lname=&fullname=&rgfromDate=&rgtoDate=&formDate=10%2F02%2F1970&formDateFlex=exact&dateType=date&kwinc=&kwexc=
CAN DROP INVISIBLE TEXT HERE