1970 Day by Day: Nov. 25

Nov. 25: UPI names 7 Huskers All-Big Eight
.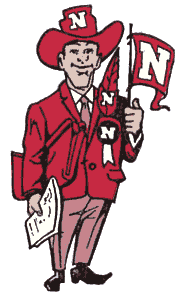 Nebraska led the way with seven first-team selections Wednesday on the 22-member UPI All-Big Eight team.
Linebacker Jerry Murtaugh and offensive tackle Bob Newton were the only unanimous selections in the voting by a 20-member media panel. Joining them on the first team were offensive guard Donnie McGhee, I-back Joe Orduna, defensive tackle Dave Walline, middle guard Ed Periard and safety Bill Kosch.
An eighth Husker, Paul Rogers, was voted kicker of the year.
Six more Huskers made the second team: quarterbacks Jerry Tagge and Van Brownson, split end Guy Ingles, offensive tackle Wally Winter, flanker Johnny Rodgers and defensive end Willie Harper.
Kansas State had the second-most first-teamers with five, and Colorado was next with three. Oklahoma and Iowa State were the only others with more than one.
In the UPI voting for sophomore back of the year, Rodgers was runner-up to Oklahoma's Joe Wylie. Husker cornerback Joe Blahak was among those also receiving votes.
Meanwhile, the Huskers and their fans had a rooting interest in at least two Thanksgiving week games. The Lincoln Star's Hal Brown predicted Southern Cal would do Nebraska a favor by upsetting Notre Dame, but he picked No. 1 Texas to handle Texas A&M easily.
---
SAVED SEARCHES
https://www.newspapers.com/search/#query=devaney&ymd=1970-11-26&p_place=NE
https://www.genealogybank.com/explore/newspapers/all/usa/nebraska?fname=devaney&lname=&fullname=&rgfromDate=&rgtoDate=&formDate=11%2F26%2F1970&formDateFlex=exact&dateType=date&kwinc=&kwexc=
CAN DROP INVISIBLE TEXT HERE
---
---
---