1970 Day by Day: Nov. 24

Nov. 24: Polls a mixed bag; Newton honored
.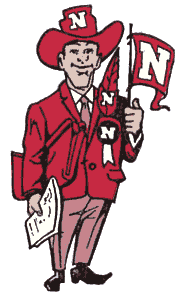 Husker offensive lineman Bob Newton was named Tuesday to the Kodak All-America team, the second such honor in four days for the senior left tackle.
Newton was the only Big Eight player on the 24-man squad, selected by the American Football Coaches Association. He had been named a Football News All-American on Friday along with linebacker Jerry Murtaugh.
Meanwhile Tuesday, Nebraska got mixed results with the release of the two major wire service polls.
In the AP rankings, the Huskers held steady at No. 3 and Notre Dame slipped to No. 4. Both teams had won narrowly Saturday, and both were leapfrogged by Ohio State after the Buckeyes' 20-9 victory over Michigan.
The Buckeyes made the same jump in the UPI coaches poll, but the Huskers slipped one notch to No. 4 behind Texas, Ohio State and Notre Dame. A finish atop the UPI rankings for Nebraska was now essentially out of reach because there would be no post-bowl coaches poll and the Huskers' and Buckeyes' regular seasons were finished.
An Illinois columnist, meanwhile, bemoaned Notre Dame's outsized role in the maddening bowl selection process. He also aired a gripe that lives on 50 years later: "There are so many bowl games now that it's ridiculous."
How many bowls were there? Reveal the answer by clicking here.Hide answer. Eleven
---
SAVED SEARCHES
https://www.newspapers.com/search/#query=devaney&ymd=1970-11-25&p_place=NE
https://www.genealogybank.com/explore/newspapers/all/usa/nebraska?fname=devaney&lname=&fullname=&rgfromDate=&rgtoDate=&formDate=11%2F25%2F1970&formDateFlex=exact&dateType=date&kwinc=&kwexc=
CAN DROP INVISIBLE TEXT HERE
---
---
---