1970 Day by Day: Nov. 18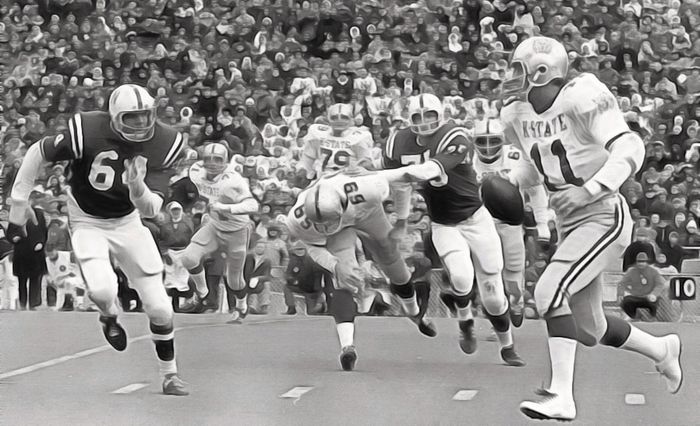 Doug Johnson, left, and Larry Jacobson pursue Kansas State's Lynn Dickey.

Nov. 18: Kinney returns; Harper still hobbled
.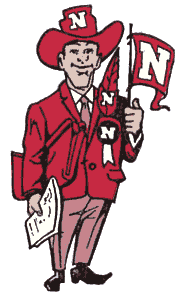 Jeff Kinney was back in pads Wednesday, but Willie Harper's status for Saturday's game against Oklahoma appeared doubtful.
I-back Kinney's sore shoulder was improving, but Harper's hip pointer wasn't. Taking Harper's place with the No. 1 unit at defensive end was sophomore Doug Johnson, who filled in for Harper during much of the Kansas State game.
Coach Bob Devaney expressed concern about the team's preparedness, saying he "wasn't especially pleased" with Wednesday's practice.
The Sooners' heavy reliance on the ground game meant the Blackshirts were unlikely to feast on interceptions the way they did against KSU.
"This team doesn't throw the ball a lot, so we'll have to stop them to get the ball," Devaney said. "Oklahoma is the first ball-control team we've played since Colorado."
The Huskers were favored by 11½ points. Will Grimsley and Herschel Nissenson of the Associated Press both picked Nebraska to win, although Grimsley predicted just a three-point margin.
---
SAVED SEARCHES
https://www.newspapers.com/search/#query=devaney&ymd=1970-11-19&p_place=NE
https://www.genealogybank.com/explore/newspapers/all/usa/nebraska?fname=devaney&lname=&fullname=&rgfromDate=&rgtoDate=&formDate=11%2F19%2F1970&formDateFlex=exact&dateType=date&kwinc=&kwexc=
CAN DROP INVISIBLE TEXT HERE