1970 Day by Day: Nov. 16

Nov. 16: Kinney, Harper sore as Sooners loom
.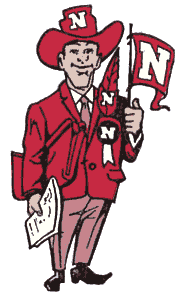 I-back Jeff Kinney and defensive end Willie Harper weren't in pads Monday as the Huskers began preparations for their regular-season finale against Oklahoma.
Kinney's problem was a sore shoulder (technically an acromioclavicular strain), and Harper had a hip pointer. It was hoped they would be able to play Saturday.
Coach Bob Devaney said Oklahoma's wishbone offense would be tough to defend. The Sooners were getting more and more adept at running the triple-option scheme after installing it for the Oct. 10th Texas game.
Linebackers coach John Melton cautioned that the Huskers couldn't take the Sooners lightly. He reminded fans that Nebraska was undefeated four years ago and were upset in Norman. 10-9.
Speculation about who Nebraska's Orange Bowl opponent would be continued to percolate. Notre Dame lost some luster with a narrow win over Georgia Tech but appeared to remain the odds-on favorite to land in the Cotton Bowl.
Devaney answered criticism that the Huskers had dimmed their chances for a shot at No. 1 by settling on a bowl too soon. He said a week's wait wouldn't have made things any less a crapshoot, particularly with Notre Dame-USC and Texas-Arkansas still to be played.
---
SAVED SEARCHES
https://www.newspapers.com/search/#query=devaney&ymd=1970-11-17&p_place=NE
https://www.genealogybank.com/explore/newspapers/all/usa/nebraska?fname=devaney&lname=&fullname=&rgfromDate=&rgtoDate=&formDate=11%2F17%2F1970&formDateFlex=exact&dateType=date&kwinc=&kwexc=
CAN DROP INVISIBLE TEXT HERE
---
---
---