1970 Day by Day: Mid-January
Lincoln Journal Star · Newspapers.com

Mid-January: Paying tribute
.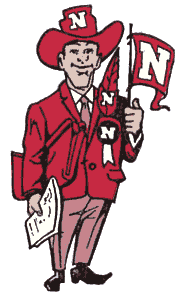 As this series winds down, we're taking the liberty of fast-forwarding to the middle of the month, when thousands of fans got their chance to salute the national champion Huskers.
The events of Jan. 14 and 18 helped make up for the scaled-back welcome the Huskers received on their return from Miami to snowbound Lincoln.
On Thursday, Jan. 14, anywhere from 7,000 to 8,500 filled the university's Coliseum as President Richard Nixon paid a visit and presented coach Bob Devaney a plaque declaring the 1970 Huskers the champions of college football.
The presidential seal of approval and the opportunity to meet Nixon were no small deal to the players.
"I knew we were No. 1 the minute we walked off the field," said split end Guy Ingles, "and this just helped it soak in."
Quarterback Jerry Tagge in particular was on cloud nine: "It was the greatest thing ever. It doesn't seem possible that I shook hands with the president twice."
Nixon's visit came on the same day Devaney learned he had been shut out of the major coach-of-the-year honors. The American Football Coaches Association named Darrell Royal of Texas and LSU's Charlie McClendon its co-winners. Several days earlier, the Football Writers Association of America had given its award to Northwestern's Alex Agase. (Devaney did have the less prestigious Football News award, given in mid-December.)
The celebratory mood continued at the annual team awards banquet on Monday, Jan. 18. To accommodate more fans, the evening event was moved from the Cornhusker Hotel to Pershing Auditorium. An Associated Press representative from New York City presented the team with a championship plaque and trophy.
Devaney said it would be "back-to-earth day" Tuesday for the returning players. They were to report for a 3 p.m. team meeting at which the 1971 Cornhuskers' journey would begin.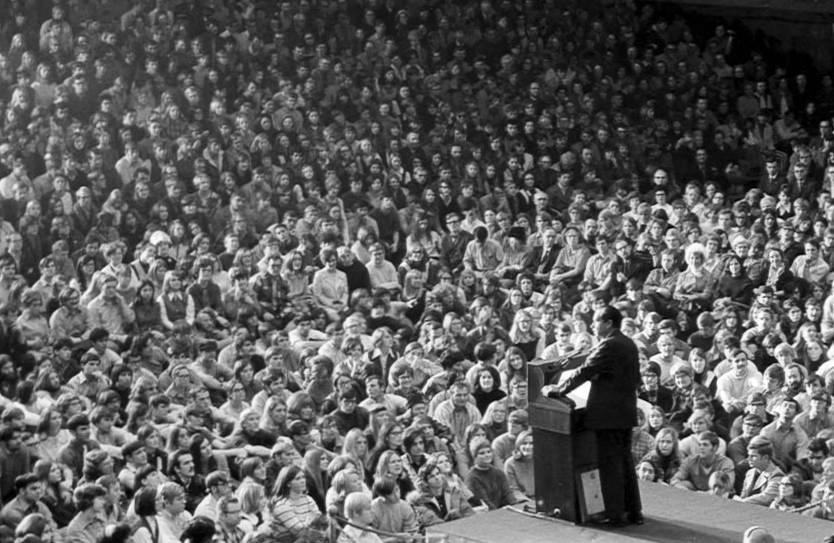 The president addresses the crowd packed into the Coliseum.
|
More White House photos
---
---
SAVED SEARCHES
https://www.newspapers.com/search/#query=devaney&ymd=1971-01-03&p_place=NE
https://www.genealogybank.com/explore/newspapers/all/usa/nebraska?fname=devaney&lname=&fullname=&rgfromDate=&rgtoDate=&formDate=01%2F03%2F1971&formDateFlex=exact&dateType=date&kwinc=&kwexc=
CAN DROP INVISIBLE TEXT HERE