1970 Day by Day: Jan. 1
The anticipation, the odds-defying upsets and the crowning victory — the Huskers make program history by staking their claim to college football's national championship. The big day is revisited here in three segments.

Jan. 1: Dawn of a long day
.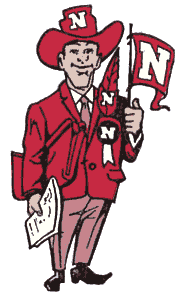 As columnist Wally Provost told Omaha World-Herald readers Friday morning, "This is the day of the fidgets, the long wait."
He was talking about players, but it applied to fans as well as they awaited the New Year's Night fray between Nebraska and LSU in the Orange Bowl. Kickoff wouldn't happen until after 7 p.m. Central.
Fifty years later, this series is starting the day with what fans woke up to on New Year's. The tabs above will take you to afternoon and nighttime installments to track the day's memorable developments, including the crucial Cotton and Rose bowls.
Provost said the game in Miami boiled down to this: "Can Nebraska's Big Eight kings effectively operate their ground game against a Louisiana State ground defense that has led the nation for two straight years?"
Provost cautioned that LSU coach Charlie McClendon's "record against undefeated bowl opponents is, for Nebraskans, discomfiting. His Tigers felled Texas in the 1962 Cotton Bowl, Arkansas in the 1966 Cotton Bowl and Wyoming in the 1968 Sugar Bowl."
In Louisiana, Bill McIntyre of the Shreveport Times noted that LSU's rugged defense "tends to force an opponent to the air-lanes. It may boil down to how often 'Husker quarterbacks Jerry Tagge and Van Brownson can locate receivers Guy Ingles and Johnny Rodgers among Tiger deep-backs Tommy Casanova, Craig Burns, Jim Earley and Bill Norsworthy."
And what about Nebraska's chance for a national championship? Scroll down to peruse half a dozen Friday morning sports pages in Nebraska, Louisiana and Florida, and in all but one instance you'll find no mention of it until several paragraphs down (in the OWH's case, the 32nd paragraph). In other words, don't get your hopes up, Husker fans.
Also viewable are pregame stories from Texas and Ohio about the Cotton and Rose bowl matchups awaiting the favored Texas Longhorns and Ohio State Buckeyes at 1 p.m. and 4 p.m. Central, respectively.
---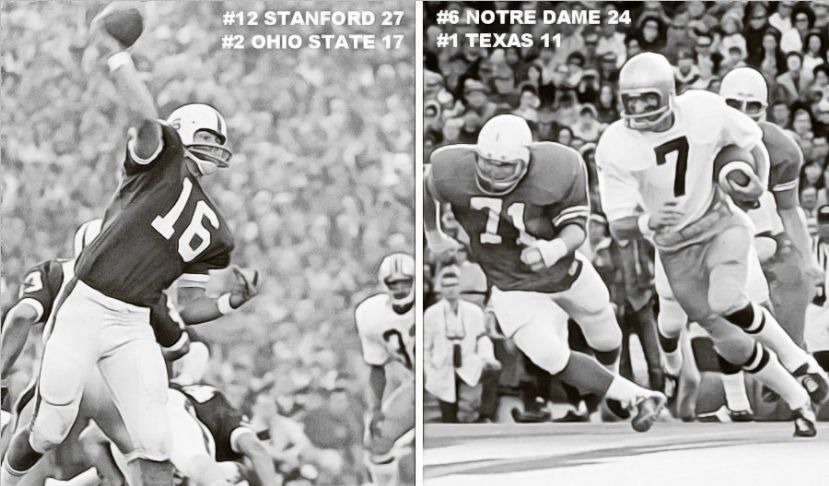 Jan. 1: Upsets set the table for Cornhuskers
.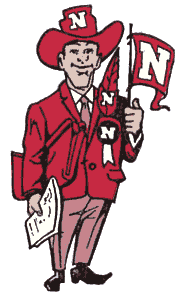 As New Year's Day progressed, improbable things were unfolding — just as the Cornhuskers had hoped.
Players and coaches watched on TV at Miami's Ivanhoe Hotel as top-ranked Texas fell to No. 6 Notre Dame in the Cotton Bowl, 24-11. Six turnovers spelled doom for the Longhorns and their 30-game winning streak.
Next came the Rose Bowl. As the Huskers left for the bus ride to the Orange Bowl stadium, second-ranked Ohio State was struggling, leading by just 17-13 over No. 12 Stanford in the third quarter. Husker Middle guard Ed Periard could scarcely contain himself as the team buses inched along in heavy traffic. Could Stanford come through with the upset?
During warmups came word that Stanford had taken a 20-17 lead. Minutes before kickoff in Miami, the 27-17 final in Pasadena was official.
What had been extremely unlikely was now reality. No. 1 and No. 2 were now out of the way. The third-ranked Huskers knew the national championship was almost certainly theirs if they could put away No. 5 LSU under the Orange Bowl lights.
Excitement was high, but so was the pressure. The Buckeyes, after all, had just squandered the same opportunity. So had Bob Devaney's 1965 Husker squad five years earlier.
The next three hours would tell whether things would be different this time.
---
Cotton Bowl
N. Dame  14  10  0  0  -  24
Texas     3   8  0  0  -  11
Highlights part 1
Highlights part 2
Austin American (Austin, Texas) · Newspapers.com
---
Rose Bowl
Ohio St    7  7  3   0  - 17
Stanford  10  0  3  14  - 27
The Cincinnati Enquirer · Newspapers.com
Fired-up Nebraska fans await the opening kickoff in the Orange Bowl. · The Palm Beach Post · Newspapers.com
---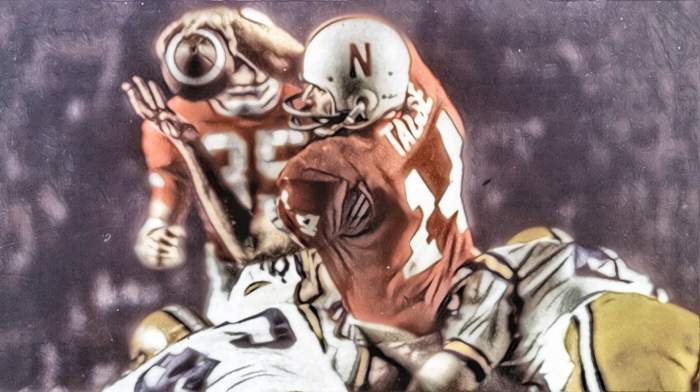 Jan. 1: Oh, what a night!
.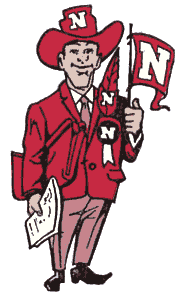 Earlier in the day, the Huskers got the help they needed. On New Year's night, they went out and helped themselves.
Nebraska 17, LSU 12. All the pieces for a national championship were now in place.
So how does it feel, Ed Periard?
"It's outta sight, baby!" exclaimed the undersized middle guard in the joyous Nebraska locker room at the Orange Bowl. "A dream come true," said quarterback Jerry Tagge.
As exuberant Husker fans finally filed out of the stadium Friday night, they pounded on the metal siding of the ramps to punctuate their chants of "We're No. 1."
But would the Associated Press pollsters concur with that ranking? It seemed a reasonably safe bet, but it wouldn't be known until Tuesday afternoon.
Coach Bob Devaney wasn't shy about making his opinion known: "Hell yes, we should be No. 1. I can't see how they could go any other way. I couldn't even see how the pope could vote for Notre Dame."
Yes, the Irish had beaten No. 1 Texas in impressive fashion. But their November slump had cost them dearly. A pair of three-point wins at home against Georgia Tech and LSU followed by a 10-point loss at Southern Cal had knocked them from No. 1 to No. 6. Among the contenders for the top spot, only Nebraska remained undefeated.
The games that mattered were over. After this night of celebration would come more than 72 hours of waiting and debating.
---