1970 Day by Day: Dec. 23

Dec. 23: Mascot gets a ticket to Miami
.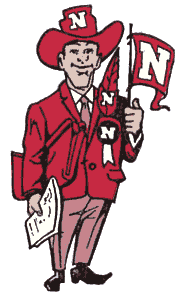 A minor crisis was averted Wednesday: The big-head Nebraska mascot would be traveling to Miami for the Orange Bowl after all.
Finding a plane that would transport the unwieldy, cowboy-hatted caricature had been a problem, but unidentified boosters came through with a solution.
Although Nebraska was a five-point favorite, the Football News' Harry DeVold and the syndicated "Major Amos B. Hoople" column both picked LSU to win by a touchdown.
Both teams' mid-December breaks were almost over. The Huskers were scheduled to fly out of Lincoln at 7:30 a.m. Thursday, arriving in Miami two days earlier than the Bayou Bengals.
---
SAVED SEARCHES
https://www.newspapers.com/search/#query=devaney&ymd=1970-12-24&p_place=NE
https://www.genealogybank.com/explore/newspapers/all/usa/nebraska?fname=devaney&lname=&fullname=&rgfromDate=&rgtoDate=&formDate=12%2F24%2F1970&formDateFlex=exact&dateType=date&kwinc=&kwexc=
CAN DROP INVISIBLE TEXT HERE