1970 Day by Day: Aug. 25

Aug. 25: Offense coming along
.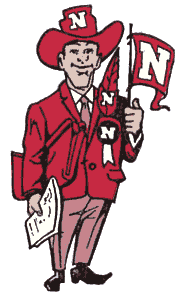 A sore elbow kept Van Brownson from throwing much, but Jerry Tagge's passing was sharp Tuesday, the Huskers' second day of fall practice.
Coach Bob Devaney said the installation of the offense was going quickly, a byproduct of the NCAA's three-year-old no-pads rule covering the first three days of fall practices. Much of Tuesday was spent running through plays and working on execution. "By the end of this first week, we will have put in 90 percent of the plays that we'll use in our first game," Devaney told reporters.
At I-back, junior Jeff Kinney and senior Joe Orduna took turns with the first unit during the day's two sessions. Kinney led the team in rushing in 1969, and Orduna did likewise in 1968 before being injured and missing the '69 campaign.
No. 1 right guard Donnie McGhee, a senior and two-year letterman, was absent as he underwent tests for an undetermined illness.
---
SAVED SEARCHES
https://www.newspapers.com/search/#query=devaney&ymd=1970-08-26&p_place=NE
https://www.genealogybank.com/explore/newspapers/all/usa/nebraska?fname=devaney&lname=&fullname=&rgfromDate=&rgtoDate=&formDate=08%2F26%2F1970&formDateFlex=exact&dateType=date&kwinc=&kwexc=
CAN DROP INVISIBLE TEXT HERE