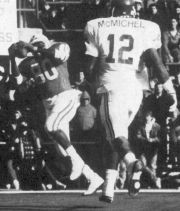 Official recap

Gerry Gdowski completed 12 of 15 passes for career highs of 225 yards and four touchdowns as Nebraska topped archrival Oklahoma, 42-25.

In leading the Huskers to their most points ever against the Sooners in Memorial Stadium, Gdowski set a Nebraska season record with 204.6 total-offense yards per game. I-back Ken Clark, meanwhile, became the 11th player in Big Eight history to top 3,000 rushing yards, finishing at 3,037.

The win was the Huskers' 103rd in the 1980s, tying Alabama's NCAA record for wins in a decade.

Nebraska 42
Oklahoma 25
Nov. 18, 1989
Lincoln, NE
Oklahoma      7   11    0    7   —   25
Nebraska     22    3   14    3   —   42

First Quarter
NU — Gerry Gdowski 8 run (Gregg Barrios kick), 12:56
OU — Arthur Guess 82 pass from Steve Collins
    (R.D. Lashar kick), 11:58
NU — Richard Bell 31 pass from Gdowski (Bryan
     Carpenter pass from Jerry Dunlap), 8:23
NU — Chris Garrett 24 pass from Gdowski
    (Barrios kick), 3:33
Second Quarter
OU — Leon Perry 1 run (S. Collins run), 12:45
NU — FG Barrios 24, 7:17
OU — FG Lashar 26, 0:44
Third Quarter
NU — Garrett 23 pass from Gdowski (Barrios kick), 11:42
NU — Morgan Gregory 38 pass from Gdowski
    (Barrios kick), 3:37
Fourth Quarter
OU — Perry 1 run (Lashar kick), 12:49
NU — FG Barrios 35, 2:00

A—76,404
                         OU        NU
First downs              18        25
Rushes-yards         59-266    50-236
Passing yards            97       225
  Comp-Att-Int       2-10-2   12-15-0
Total offense        69-363    65-461
Returns-yards           0-0      4-96
Sacks by                1-8      2-12
Punts-avg.             2-46      1-45
Fumbles-lost            5-1       1-1
Penalties-yards        2-10      4-29
Time of possession    30:08     29:52

INDIVIDUAL LEADERS
Rushing
 OU: Dewell Brewer 27-137, S. Collins 18-72, Perry 9-27
 NU: Ken Clark 23-91, Carpenter 8-39, Bell 4-37,
     Gdowski 8-22

Passing:
 OU: S. Collins 2-10-2-97
 NU: Gdowski 12-15-0-225

Receiving:
 OU: Guess 2-97
 NU: Gregory 3-53, Garrett 2-47, Nate Turner 2-42, Bell 2-40,
     Jon Bostick 2-34, Garrett 2-47, Monte Kratzenstein 1-9

Missed field goals: none

Interceptions:
 OU: none. 
 NU: Tyrone Byrd 1-31, Tahaun Lewis 1-28

Tackles (UT-AT-TT):
 OU: Joe Bowden 8-4-12, Chris Wilson 7-1-8, Terry Ray 5-3-8
 NU: Randall Jobman 6-6-12, Reggie Cooper 8-2-10, Pat Tyrance 1-7-8

Sacks:
 OU: Stacey Dillard 1-8
 NU: Kent Wells 1-9, Kenny Walker 1-3