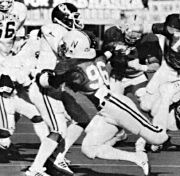 Official recap
It was the same old story before the game and unfortunately for Nebraska fans it was much the same story afterward as Oklahoma beat the Huskers 21-17 to capture sole possession of first place in the Big 8.

It was the ninth time in the last 10 years that the two schools had met for the conference crown, and early on it appeared as though the Huskers were heading for their first outright title since 1971.

On Nebraska's first possession, Jarvis Redwine showed some of his early season flash as he burned the Sooners for a dazzling 89 yard touchdown run. Kevin Seibel added a 47 yard field goal to give the Huskers a 10-0 lead after one quarter.

But OU jumped in front at the half 14-10. After a bruising third quarter, in which the Huskers held OU's wishbone to just seven yards, Nebraska had several chances to go ahead. But after a pair of turnovers the Huskers scored on a 1 yard sneak of by Jeff Quinn.

A pair of last-second sprints by the Sooners' Buster Rhymes put OU back on top and sent Nebraska to the Sun Bowl.

Oklahoma 21
Nebraska 17
Nov. 22, 1980
Lincoln, NE
Oklahoma       0    14     0    7  -  21 
Nebraska      10     0     0    7  -  17

First Quarter
NU - Jarvis Redwine 89 run (Kevin Seibel kick), 8:43  
NU - Seibel 47 field goal, 0:43  
Second Quarter
OU - J.C. Watts 3 run (Michael Keeling kick), 4:17  
OU - Chet Winters 3 run (Keeling kick), 1:41  
Fourth Quarter
NU - Jeff Quinn 1 run (Seibel kick), 3:16
OU - Buster Rhymes 1 run (Keeling kick), 0:56

                            OU        NU 
First Downs.................17        18 
Rushing Net.............62-249    58-314 
Passing Net.................26        76 
  Comp-Att-Int. .........2-7-0    7-13-1 
Total Offense...........69-275    71-390
Return yards ................9         7
Punts ....................8-43      7-28
Fumbles-lost...............5-2       4-1
Penalties-yards...........5-31      7-70

INDIVIDUAL LEADERS
RUSHING
OU: Watts 25-73; Wilson 19-91; Rhymes 10-35.
NU: Redwine 21-152; Franklin 20-122

PASSING
OU: Watts 2-7-0 26
NU: Quinn 7-13-1 76

RECEIVING
OU: Rhodes 1-13; Grayson 1-13
NU: Steels 3-40; Finn 1-13; Noonan 1-12
 
ATTENDANCE: 76,322