Official recap
It was the Big 8 showdown of the year: unbeaten defending champion Nebraska vs. throne pretender Kansas State, and the Huskers were without starting quarterback Van Brownson for the second straight week.
Nebraska had the loop's top offense and K-State came to town with the best defense, but the Huskers quickly de-clawed the Wildcats and coasted to a 51-13 victory and clinch at least a tie for the Big 8 title.
The Huskers' performance was awesome and the obliteration of star quarterback Lynn Dickey and the 'Cats was stunning. Nebraska drilled K-State for 361 yards, while holding the Wildcats to 70 yards on the ground. NU quarterback Jerry Tagge hit 13 of 19 passes for 162 yards, including a 60-yarder to Johnny Rodgers.
Dickey hit 22 of 46 passes for 255 yards, but a sensational NU secondary intercepted a record seven passes to completely derail the visitors.
Nebraska jumped to a 7-0 lead as Johnny Rodgers ran 30 yards for a TD on the first play after Jerry Murtaugh intercepted Dickey just after the game opened. It was 14-0 at the quarter and 21-7 at halftime. But the Huskers really exploded in the third quarter to open a 37-7 lead. During a 3:58 span, Nebraska ran up 27 points to jump from 24-7 to 51-7.
Joe Orduna scored four TDs for the Huskers, who ran their season record to 9-0-1 and set the stage for the championship game with Oklahoma.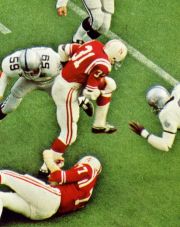 H'MAX NOTES: Joe Blahak had three of the Huskers' seven pass pickoffs. His 53-yard interception return late in the third quarter sparked Nebraska's 27-point explosion. ... KSU fullback Mike Montgomery was ejected for punching backfield judge Wayne Cooley in the back late in the second quarter. Montgomery felt he had been interfered with on a fourth-down pass play. ... The Orange Bowl extended an invitation to the Huskers after the game, and the Huskers accepted it the next day. ... A student assistant in the Nebraska athletic department was fired after selling two dozen press-box passes to fans outside the stadium for about $15 apiece. "I began to wonder what was going on when we started running out of food for the press luncheon so early," said sports information director Don Bryant. ... K-State tied for second in the league at 5-2 and finished 6-5 overall – one of only two winning years in a 36-season stretch from 1955 through 1990.