Official recap
Nebraska's Cornhuskers remained unbeaten by clobbering the Iowa State Cyclones, 54-29, before a record crowd of 36,000 fans.

The Huskers went after No. 8 with gusto, leading 12-0 at the quarter and 26-11 at halftime.

A 21-point third quarter insured the rout and gave the reserves ample playing time against the hustling Cyclones, who struck for two late TDs.


Orduna

Joe Orduna scored two first-quarter tallies and added a third in the second half. Jeff Kinney led all rushers with 116 yards, while Dan Schneiss netted 92 and two TDs.

Jerry Tagge hit 18 of 27 passes for 223 yards going the entire route in relief of Van Brownson, who was hurt at Colorado the week before and would not fully recover during the remainder of the regular season.

H'MAX NOTES: NU's first touchdown drive covered 73 yards in 17 plays and followed an Iowa State fumble on the game's second play. Nebraska's second TD drive covered 61 yards in 14 plays. ... The Des Moines Register observed after the game: "Some years the Huskers are big, strong and ponderous. This year ... they are big strong and strike with lightning-fast backs." ... Iowa State's George Amundson, previously used only as a quarterback, also saw action as a tailback in the game.

ASSOCIATED PRESS
SPORTS ILLUSTRATED
VIDEO HIGHLIGHTS
SERIES HISTORY
SEASON STATS | NU ROSTER
MEDIA GUIDE'S ISU PAGE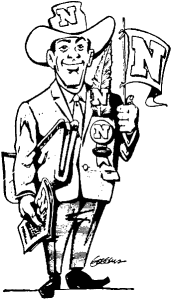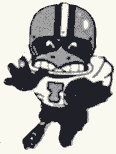 Nebraska 54
Iowa State 29
Nov. 7, 1970
Ames, IA
Nebraska      12   14   21    7  —  54
Iowa State     0   11    6   12  —  29

First Quarter
NEB — Joe Orduna 3 run (kick blocked), 7:52
NEB — Orduna 8 run (pass failed), 1:33
Second Quarter
ISU — Reggie Shoemake 39 field goal, 9:38
NEB — Jerry Tagge 1 run (Paul Rogers kick), 6:08
NEB — Dan Schneiss 7 pass from Tagge (Rogers kick), 1:52
ISU — Otto Stowe 33 pass from Dean Carlson (Stowe run), 0:47
Third Quarter
NEB — Johnny Rodgers 22 pass from Tagge (Rogers kick), 4:33
ISU — Jock Johnson 20 pass from Carlson (pass failed), 4:04
NEB — Orduna 6 run (Rogers kick), 3:07
NEB — Schneiss 23 run (Rogers kick), 0:31
Fourth Quarter
NEB — Frank Vactor 3 run (Rogers kick), 5:43
ISU — Stowe 9 pass from George Amundson (run failed), 1:53
ISU — Dave McCurry 55 pass from Amundson (pass failed), 0:42

                        NU      ISU
First Downs ........... 31       16
Rushing, Net ......... 342      117
Passing, Net ......... 223      228
 Att-Comp-Int .... 18-27-0  19-28-3
Total Offense ........ 565      345
Punts-average ....... 3-32     7-41
Fumbles lost ..........  3        1
Yards penalized ....... 70       71

RUSHING
NEB: Kinney 19-116; Orduna 17-69; Schneiss 14-92; Tagge 11-11;
     Vactor 6-27, Cannon 1-4, Ingles 2-20, List 1-(-1),
     Hughes 1-1, Olds 2-2.
ISU: Carlson 3-10, Palmer 2-6, Johnson 4-14, Stowe 1-36;
     Amundson 7-17; McDonald 6-30

PASSING
NEB: Tagge 27-18-0 223
ISU: Carlson 29-15-3 147; Amundson 8-4-0 81

RECEIVING
NEB: Kinney 4-42; Schneiss 2-25; List 2-34; Rodgers 4-58;
     Ingles 2-24; Hughes 2-24, Orduna 1-11, Harvey 1-6
ISU: Stowe 6-63; Lorenz 6-61; Johnson 3-6; McCurry 3-71;
     Palmer 1-27

 NU BACK OF GAME: Jerry Tagge.
  Hit 18 of 27 passes for 223 yards and two TDs.
  Also ran for 11 yards and one TD.


 NU LINEMAN OF GAME: Doug Dumler.
  Brilliant job of pass protection, blocking helped NU
  throw for 223 yards. Also blocked well as rushing
  attack netted 342 yards.

Attendance: 36,000