In Bob Devaney's debut as Nebraska's head coach, the Huskers opened the 1962 season by pounding undermanned South Dakota, 53-0, at Memorial Stadium. With eight different players scoring TDs, the Huskers led 19-0 at halftime, and then added 20 points in the third quarter and 14 in the fourth.

Nebraska had 27 first downs to the Coyotes' six.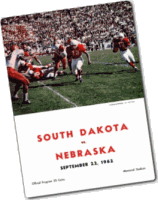 H'MAX NOTES: It was the Huskers' highest point total since 1945, when Nebraska beat South Dakota by the same score. … A few minutes after he returned an inter­cep­tion for NU's first second-half touch­down, halfback Dave Theisen set up Nebraska's next score with a 30-yard punt return. …

South Dakota's biggest weapon came in a small package. Halfback Dick Scott, 5-foot-5 and 151 pounds, netted 73 yards on 16 carries, including a long of 25 yards. … South Dakota got all six of its first downs in the final 20 minutes of play. … NU's third and fourth strings played the entire fourth quarter. … Starting right end Jim Huge suffered a concussion. …

The Omaha paper observed the new coach's style: "In contrast to the con­fu­sion which has appeared to keep the Corn­husker bench in turmoil during recent seasons, all was in order and business­like. … Players remained on the bench instead of roaming the side­lines. Devaney gave the orders and his assistants carried them out. The new coach spoke to the players as they left the field – a word of encourage­ment, advice or an occasional verbal whip."